Ibanez RG2550E Galaxy Black: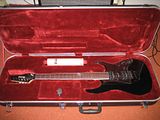 Since I have already talked a bit about the RG2550E-GK here, I'm going to make this a quick subjective review about why this guitar was worth every £ I spent on it.
What I liked (besides the great build quality):
– Perfect fretwork: Supposedly same frets as the RG1570 but for some reason this guitar had better fretwork
– Acoustically sounded better than the RG1570 which has the same basswood body
– Pickguard mounted pickups: I was concerned how this would affect tone, but it has worked out better than the rear-routed pickups of the RG1570. In fact, the DiMarzio Evo pair will not fit an RG1570 without modding the body because of the increased pickup height
– Stock DiMarzio/ibz pickups sounded good, not as hot as I'd like them, but they're way better than the V7-S1-V8 pickups on the RG1570
– Cosmetic: Ghost sharkin inlays, Cosmo hardware, Bound rosewood fingerboard
What I did not like:
– Really dry fingerboard, which will be fixed with some lemon oil soon
– Pickguard quality: maybe it's an intended design but to me the machined lines don't seem to fit in with the overall look of the guitar. A plain smoked mirror guard would have looked better
– One of the stud posts for the Edge Pro trem loose in it's socket, causing tuning instability when the trem is used. Ordered a Locking Stud mod that was used in earlier Edge trem systems.