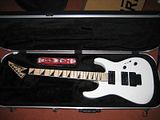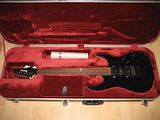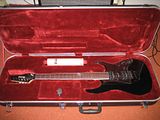 Among all the guitars I received in the last two months, these were my top three. The one thing they had in common was the exceptional build quality and a very good finish. It was tough choosing one but I eventually had to so I could get on with my recording projects.
At first I was really tempted to buy a used JS1000 or EBMM JP6, not because they're my favorite guitarists' signature models but because both guitars are well crafted, play like a dream and are bloody brilliant in general. However, I didn't think it was a good idea because I knew I'd be experimenting a lot to get the sound I want out of it. It seems pointless buying a signature guitar and changing the pickups to make it sound right for your music, and neither would you want to make cosmetic changes where it would stop looking like a signature model – it beats the whole purpose of buying one. Anyways, that's why I spent the time I did on finding a guitar that is neutral (i.e. not built specifically for jazz, blues, rock or metal), and can be set up to suit my playing style.
Jackson DK2M Snow White:
I was impressed from the time I opened that case – the white body, black hardware & binding, and the maple neck, fingerboard & headstock were too good to be true. The pickups are not exactly stock Jacksons or Duncan Designed but they're Seymour Duncan's Jazz SH2N neck & JB TB4 bridge, so the guitar was ready for serious shredding right out of the box. The factory setup was decent but after re-stringing her, reducing some neck bow and lowering the JT580 tremolo I was going out of tune whenever the trem was used. It wasn't a good sign because I loved everything about the DK2M, especially the 80's look and sound :)
I was tempted to remove the trem and set it up again to make sure the strings running down wasn't a result of a shipping accident, but I decided to have the store take a look since this was a new guitar anyways. They had it picked up and later call to let me know the trem may have been damaged during shipping, and that a new DK2M would reach me in a week. More than a week had passed and I was contacted by a Fender rep (Fender owns Jackson/Charvel) to let me know they couldn't find a single DK2M White guitar with any dealers in the UK. They gave me a choice between Black and Transparent Red but after seeing the DK2M in White I couldn't settle for another color. At that moment, I dropped the idea of a DK2M (temporarily, at least). It was a tough call because I knew I'd have trouble finding another guitar as good as this under £400.