Last week I decided to play around with the JS30 by throwing in the stock DiMarzio humbuckers from my RG2550E. I wasn't very excited about how these pickups sounded in the RG so I didn't expect much. It would obviously sound different in the JS30's alder body (as opposed to the RG's basswood) but what I did not expect is how these pickups really brought the guitar to life.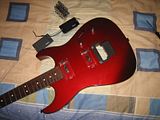 It's given the JS30 a much warmer tone, dynamic at the same time and really picks up those pinched harmonics. Overall, it has a punchier tone than the active humbuckers I had in there, which were good but a tad too bright at times especially when played through a digital multi-effects unit. Oh, and while I was at it, I shielded the electronics cavity and split the coils in the mid position for a sweet strat tone ;)
With this, I think I'm really done with my pickup experiments for a few months. The focus for the next month or so will be effects and effects pedals I've bought and tested recently.