What we have here are high-end reissues of two classic Maxon pedals – the VOP9 Vintage Overdrive Pro and CP101 Optical Compressor.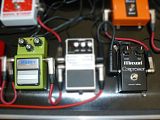 The VOP-9 is basically an OD-820 in a nine-series chassis with the same JEC NJM4558D op-amp and negative feedback loop clipping diode.  I am not a fan of tubescreamer pedals (stock, modded or clones) and the VOP-9 is nothing like a tubescreamer, which is what got me excited when I heard Dave Weiner review it here.  In fact, I was sold on the pedal based on a few of Dave's Riff Of The Week videos.  Since no retailer in England stocks the VOP9, I could not try it before I plonked the money down for one, so a big thanks to Dave for doing a brilliant job of demoing the VOP9.  I'm completely blown away at the warmth, headroom and clarity of the VOP9.  I've owned an Xotic BB and Fulltone OCD before and while they were high quality boutique pedals with amp-like characteristics, they didn't really bowl me over or inspire.
The CP101 is an optical compressor unlike any compressor I've owned or tried, with it's optical circuit for low-noise operation.  When turned on, you notice this really smooth and transparent compression.  Without the hiss of normal compressors it's hard to tell, just by listening, whether it's turned on or not but it does an excellent job of keeping those levels in check.  It was either the CP101 or the Barber TonePress but as I was looking for a compressor with a subtle effect on tone, the CP101 made sense.
Detailed reviews with audio samples to follow, meanwhile you can check out Dave Weiner's review of these pedals here.
All Maxon pedals feature heavy duty die-cast chassis, high-quality components and mechanical, true-bypass switching.  Based on the quality and tone of these two pedals I own, I'm looking forward to testing other Maxon pedals
A little history on Maxon for those interested/not aware:
Maxon is the name used by the Nisshin Onpa company of Japan for its line of effects pedals designed for guitar and bass.
During the 1970s Ibanez became one of the company's main OEM customers. Nisshin Onpa designed and manufactured the now legendary TS-808 and TS-9 Tube Screamers for Ibanez, and many other models, including the FL-9 Flanger, CS-9 Chorus, and AD-9 Analog Delay. Nisshin Onpa also marketed its pedals under its own Maxon name during this time. When Nisshin Onpa and Ibanez parted ways in 2002, Nisshin Onpa began to more aggressively market its own line of Maxon pedals. Repositioning itself as a manufacturer of high-end mass-produced effects, Maxon expanded its line of analog pedals, using rare NOS components and classic circuit designs that are to this day highly respected and sought after.
Maxon continues to expand its product line. Although they produced digital delays and reverbs during the 1980s and '90s, they now concentrate mostly on "hard-to-find elsewhere" vintage type effects such as analog delays, analog choruses and flangers, and classic overdrive and distortion units. Most of the old Ibanez Nine Series is available in Maxon form these days, but the Maxon pedals now include true-bypass switching and circuitry equal to or in many cases superior to the Ibanez originals. The company prides itself on a reputation of quality over quantity.